What other customers say about their experience with one of the most reliable auto transport companies in the US:
When you're moving something as valuable as your car, you want to know it's in the right hands. 
At Unlimited Auto Trans, we seek and guarantee fully insured, trustworthy and reliable auto shippers who will handle your vehicle transportation with care and professionalism. 
Our trucking partners come from top-rated companies, ensuring the safe and timely car transport you deserve. Though a carrier's estimate can extremely vary from the final price you pay, our no-obligation quotes are guaranteed, so there won't be any unwanted surprises.
Looking reliable and secure Missouri car shipping service?

Here's an inside of the auto transportation market in the state of Missouri.
Shipping a car from Missouri. Here is all you need to know?
       If you have a passenger vehicle, SUV,  luxury sedan, or classic car worth thousands of dollars, we guarantee your car will be our top priority from the time it leaves Missouri until you take possession of it at your desired destination. Shipping a car from Missouri has never been easier.
        First, you need to decide if you would like to have your vehicle transported with Open Trailer or Enclosed Trailer.  You can refer to the chart below and find out how popular Missouri is for the auto transportation industry, and the average pickup time for each service. Keep in mind that Door To Door car shipping is included when working with us. 
Missouri is a popular destination for auto transportation industry with lots of trucks picking up and delivering every day.
78% of the vehicles are getting picked up 1 – 5 days after First Available Date.
80% of the vehicles are getting picked up 1 – 10 days after First Available Date.
    Once you have your order set up in our system we will assign a shipping expert to ensure a smooth pickup and delivery process. Moreover, you will be provided with the truck driver's phone number, who is transporting your vehicle. 
   According to a survey, good communication between customer, broker, and driver is the most important element of the car shipping process.  
   Our 11+ years of experience in the auto transportation industry helped us develop professional relationships with some of the most reliable carrier companies in Missouri by treating them with respect.
    Another important element is the price of shipping a car from Missouri.  The cost of shipping your car or truck is determined by a wide variety of factors such as the type and size of the vehicle you want to transport, the pickup and delivery locations, and the overall distance covered by the shipment. 
   Often these will fluctuate with the markets impacting nationwide auto transport.  Weather conditions are another important factor affecting transit times and Missouri car shipping costs.
Missouri Auto Transportation Coverage Map
Shipping Luxury & Sports Cars
  Transporting a high-end vehicle in your move to Missouri can be stressful, but we're here to handle everything. Our white-glove service level features a dedicated spot in our specialized fleet of fully-enclosed luxury vehicle transporters and constant updates throughout your vehicle's transport so that you're never out of the loop.
    Of all the things on your to-do list for moving to Missouri, getting your car to your new destination without so much as a scratch is surely at the top of the list. 
   Even though transporting a vehicle is always well worth the effort, there are opportunities for trouble at every turn if you don't hire the appropriate parties to handle the job.
   Here at Unlimited Auto Transport, our team has deep expertise in Missouri car shipping to/from every major metro area in the continental United States and we stake our reputation on handling all of the details for you so you can relax during your move. 
Affordable Missouri Car Shipping Services
    Our mission at Unlimited Auto Transport is to provide A+ service at rock-bottom prices, and we're sure you'll agree that we deliver. To see just how affordable Missouri car shipping can be, simply pick up the phone and call us right now or complete our online form. 
   We'd love to help flesh out all of the details with an instant, no-obligation quote. Your free quote is ready when you are. Let's talk today.
Reliable and professional auto transport services that fits your need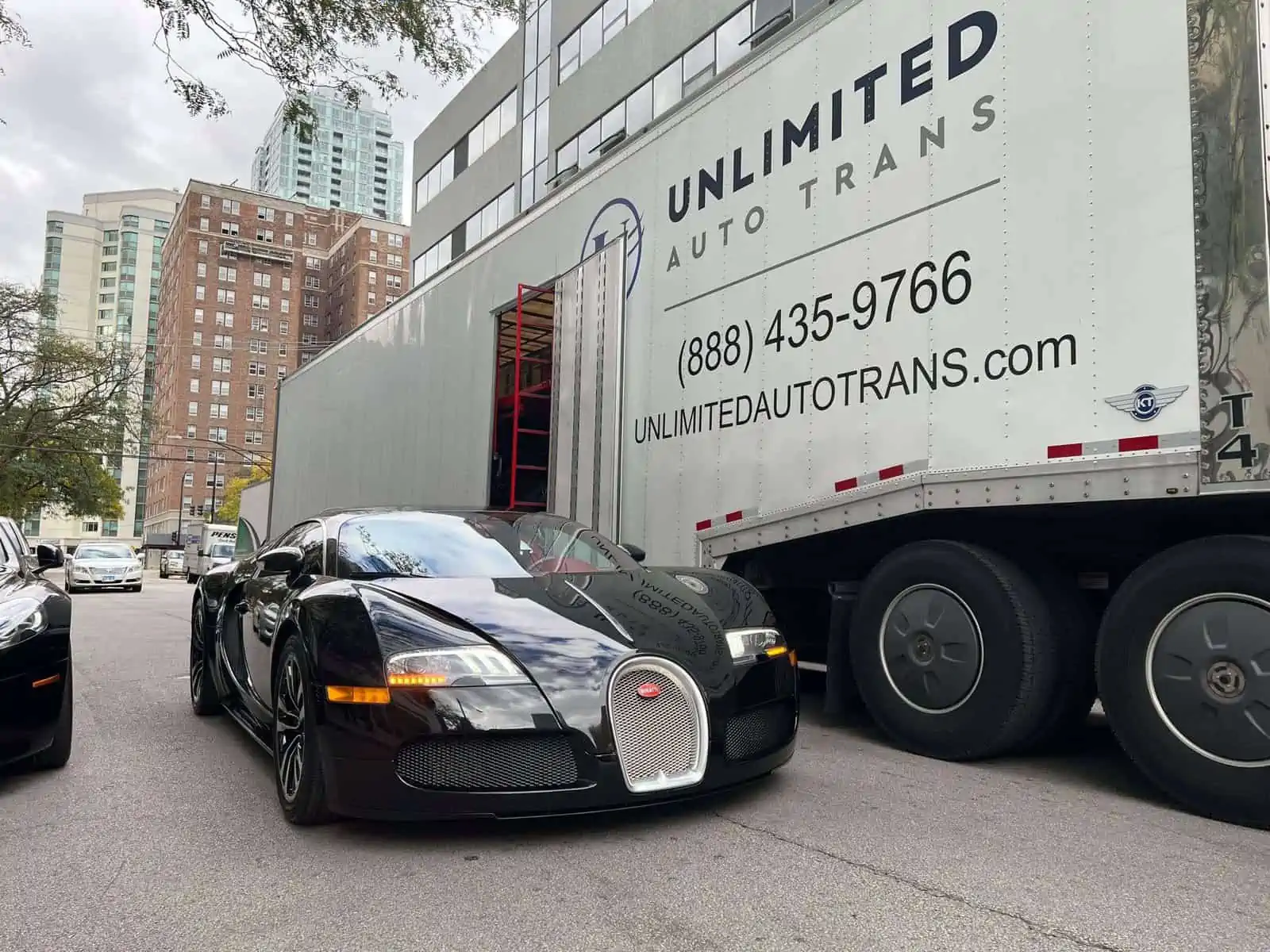 Luxury Vehicle Transportation Professional, Reliable And Secure Luxury Car Transportation 100% Insured, Licensed & Bonded …
Auto Transport Safety Measures in Missouri
   When looking for Missouri auto transport services, choosing the top dogs guarantees a safe and happy delivery. Don't stress out worrying about the quality of the drivers handling your vehicle.    
   We know you have a lot of Missouri car shipping companies to choose from, but we also see how few of our competitors can keep their promises consistently. It can feel scary to trust us with your vehicle for the first time, but we do everything in our power to put your mind at ease.
   Unlimited Auto Transport only works the best, and we don't even consider working with the rest. In addition, we hold ourselves to the same high standards as all of our partners. We are fully licensed by the United States Department of Transportation, and we are also 100% bonded and insured. As a client of ours, your vehicle is completely covered for its entire trip.
   We prioritize the safety of your car and, in doing so, make sure that periodic inspection with our carriers is mandatory. Each transport must be ready for quality deliveries, keeping the vehicle in place and providing ample protection from outside factors.
    Many carriers are considered open carriers and rely on beams to protect vehicles from objects in the air. You can upgrade your service to an enclosed carrier for maximum protection, which keeps your car completely protected from outside elements. 
    As a bonded, licensed, and insured brokerage with the U.S. Department of Transportation, damages to your car are covered, and you are entitled to compensation from the company.  In the event something damages your car, you are entitled to compensation from the company. 
   Once the vehicle is dropped off, make sure to check it before signing papers to ensure your automobile is in proper condition. Remember that our customer service and quality deliveries are our highest priority, and your vehicle is covered.
   After this is confirmed, you can pay your bill's remaining balance to the driver. If you're ready to move from Missouri, don't wait any longer to arrange your car's transport. 
   To do so, visit Request a Car Shipping Quote or call us at 888-278-9855 to get your price estimate today
Integrity & Professionalism
Unlimited Auto Trans is committed to providing our customers with the highest caliber of customer service at the best possible price. We do not charge sky-high brokerage fees, and we work hard to match you with the ideal carrier for big savings we can pass on to our customers. Our experience as both a broker and a carrier means our customers benefit from a comprehensive view of every facet of the industry.
5 Star Vehicle Shipping Experience
Our brokerage makes safe and meticulous transport our highest priority. Unlimited Auto Trans is fully insured, licensed, and bonded with the U.S. Department of Transportation (USDOT) and the Federal Motor Carrier Safety Administration (FMCSA). You can rest easy that your vehicle will be treated with the greatest standard of care and respect.
Ship Your Vehicle with Unlimited Auto Trans
Quick Guide to shipping a car from Missouri
At Unlimited Auto Trans, we provide safe and on time car transport at competitive prices. Ship your car stress free knowing we're licensed, bonded, and insured.
From passenger cars, SUVs, motorcycles, and even luxury cars, we can ship nationwide.
Use our calculator for a free instant quote today.
Book online or call us toll-free at
(888) 278 – 9855.