What other customers say about their experience with one of the most reliable auto transport companies in the US:
When you're moving something as valuable as your car, you want to know it's in the right hands. 
At Unlimited Auto Trans, we seek and guarantee fully insured, trustworthy and reliable auto shippers who will handle your vehicle transportation with care and professionalism. 
Our trucking partners come from top-rated companies, ensuring the safe and timely car transport you deserve. Though a carrier's estimate can extremely vary from the final price you pay, our no-obligation quotes are guaranteed, so there won't be any unwanted surprises.
 Looking to ship a vehicle from / to Los Angeles?
Here's an inside of the auto transportation market in Los Angeles.
Car shipping from / to Los Angeles. What you need to know?
    With its signature California weather and laid-back atmosphere, The City of Angels is a popular moving destination and understandably so. In addition to perpetual sunshine, Los Angeles boasts over 50 miles of pristine coastline marked with relaxing beaches and soothing proximity to the ocean only steps away.
    Traditionally known for its massive footprint in the entertainment industry, Los Angeles is also rapidly emerging as a second home for some of Silicon Valley's largest companies. With corporations like Google, SpaceX, and Snap directly expanding in to L.A., job prospects in Los Angeles are plentiful and the city is clearly on the rise.
    If you have a passenger vehicle, SUV,  luxury sedan or classic car worth thousands of dollars, we guarantee your car will be our top priority from the time it leaves Illinois until you take possession of it at your desired destination. Shipping a car from / to Los Angeles takes a lot of work, despite the fact that Los Angeles area is a popular transportation hub. 
    First, you need to decide if you would like to have you vehicle transported with Open Trailer or Enclosed Trailer.  You can refer to the chart below and find out how popular Los Angeles is for the auto transportation industry, and average pickup time for each service. Keep in mind that Door To Door car shipping is included when working with us, however the city of Los Angeles is not easily accessible by most of the big car haulers due to strict rules and restrictions. Our car shipping experts will advise you on the best option to have your vehicle picked up and delivered in Los Angeles.
Los Angeles is a very popular destination for auto transportation industry with lots of trucks picking up and delivering every day.
94% of the vehicles are getting picked up 1 – 3 days after First Available Date.
97% of the vehicles are getting picked up 1 – 4 days after First Available Date.
    Once you have your order set up in our system we will assign a shipping expert to ensure a smooth pickup and delivery process. Moreover, you will be provided with the truck driver's phone number, who is transporting you vehicle. According to a survey, good communication between customer, broker and driver is the most important element of the car shipping process.  Our 11+ years of experience in the auto transportation industry helped us develop professional relationships with some of the most reliable carrier companies in California by treating them with respect.
    Another important element is the price of shipping a car from / to Los Angeles.  The cost of shipping your car or truck  is determined by a wide variety of factors such as: the type and size of the vehicle you want to transport, the pickup and delivery locations, and the overall distance covered by the shipment. Often these will fluctuate with the markets impacting nationwide auto transport.  Weather conditions are another important factor affecting transit times and car shipping costs in Los Angeles. 
Los Angeles Car Shipping Companies Near Me
Like most other things worth doing, moving to a new city can be complex, time-consuming, and stressful. While you're busy making your to-do lists and figuring out how to pack up your wardrobe, the last thing you ever want to be thinking about is whether you can truly trust the company that you've hired to get your vehicle to Los Angeles in one piece.
That's exactly where Unlimited Auto Transport comes in. As the premier auto-shipping operation in the country, we offer reliable Los Angeles car shipping to/from your destination every day of the week.
Auto Transport Safety Measures in Los Angeles
    Way too many car shipping companies get tempted to cut corners on vehicle safety for the sake of trying to turn a quick profit at your expense, but that's not us and it never will be.
   Unlimited Auto Transport has earned a stellar reputation for our uncompromising safety standards and we plan to make sure that never changes. Specifically, we take several steps to make sure your car is safely transported to Los Angeles and your vehicle arrives on time.
   Industrial-strength beams come standard on our carrier fleet to completely protect your car from things like airborne particulate matter or otherwise harmful debris.

   Every carrier partner that we contract with is routinely subjected to multi-layer safety examinations to make sure that your vehicle is in good hands throughout the entire moving process.

   Even if the unthinkable were to happen, we've got your back. Since we here at Unlimited Auto Transport are completely bonded, insured, and licensed, your vehicle enjoys iron-clad coverage throughout its journey to Los Angeles.
Most Popular Auto Transportation Routes from Los Angeles
Shipping Luxury & Classic Cars
   When you're transporting a classic car or a luxury vehicle to Los Angeles, you're going to want best-in-class service to make sure the transition goes smoothly. That's where our white glove service level comes in.
  We have a specialized transport fleet set aside exclusively for shipping the most delicate and valuable of automobiles. Each vessel in the fleet is fully enclosed to ensure that even the harshest of weather conditions won't cause any problem at all.

  As a white-glove priority customer, you receive personalized and transparent updates and communication straight from us throughout your vehicle's journey to Los Angeles. When your vehicle arrives, you'll know right away.
Reliable and professional auto transport services that fits your need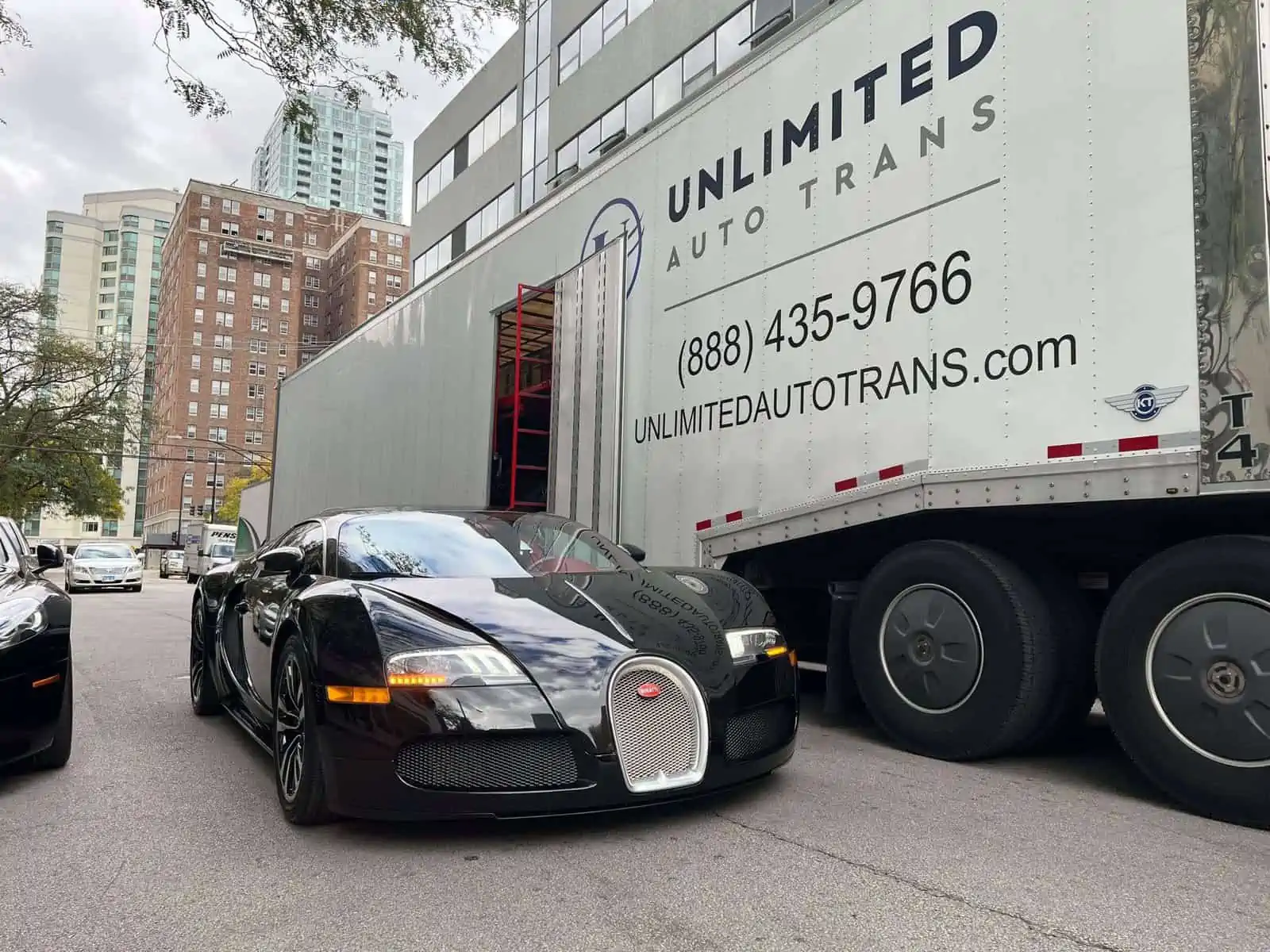 Luxury Vehicle Transportation Professional, Reliable And Secure Luxury Car Transportation 100% Insured, Licensed & Bonded …
Long Distance Transport to / from Los Angeles
  Our shipping service uses Los Angeles car shippers who have experience in the area and all the quirks that come with driving here. People who don't understand how the roads are laid out here and the simplicity of navigating them will find themselves lost without a paddle in no time.
   Los Angeles shippers have a feel for the road, know where traffic gets congested, and know what areas and roads that a large transporter simply won't fit. Knowing their limitations and strengths is half the battle of ensuring an ideal service.
Affordable Car Shipping Options in Los Angeles
   When you see our track record for success and customer satisfaction, you know that you are getting the best value for your money when you choose our Los Angeles auto transport service. Our pricing is competitive and affordable even if we don't push ourselves to meet the rock-bottom range.
    You know that there is a wide range of quality in automotive transport. Vehicles can vibrate during shipping, fall off the transporter, get scratched or dented, or disappear altogether. When you book your service with our company, you can bank on punctual delivery times and flawless transport of your vehicle.
How to Request a Price Estimate
    Getting a quote for your Los Angeles car shipping project is not incredibly convenient, but it's also free.
   To receive your free quote right now, all you need to is either give us a quick call at the phone number listed on our website or fill in the easy Contact Form on our website.
To Get Started Shipping
If you would prefer to speak to one of our experienced Transport Specialists, feel free to give us a call at (888) 435-9766 (Toll Free)
Ship Your Vehicle with Unlimited Auto Transportation
Quick Guide to ship a car from / to Los Angeles
At Unlimited Auto Trans, we provide safe and on time car transport at competitive prices. Ship your car stress free knowing we're licensed, bonded, and insured.
From passenger cars, SUVs, motorcycles, and even luxury cars, we can ship nationwide.
Use our calculator for a free instant quote today.
Book online or call us toll free at
(888) 435-9766.