What other customers say about their experience with one of the most reliable auto transport companies in the US:
Illinois Car Shipping Company
    Looking for a Illinois auto transport company that ships near you?  Unlimited Auto Transport helps vehicles get shipped nationwide, and very frequently from Chicago. 
    Headquartered in Illinois, there's no car transporter that provides quality Illinois car shipping services better. When you know where to shop for car shippers, you have one foot in the door. 
    The best places to shop are with shippers who regularly schedule routes to and from Chicago. They will be able to offer the highest quality of service without learning curves. 
    They know Illinois like the back of their hands and what hours to drive into the city sections when delivery or pickup may be practical. Allow us to walk you through competitive pricing, what to expect, and the safety of your vehicle.
When you're moving something as valuable as your car, you want to know it's in the right hands. 
Illinois is a very popular destination for auto transportation industry with lots of trucks picking up and delivering every day.
90% of the vehicles are getting picked up 1 – 3 days after First Available Date.
95% of the vehicles are getting picked up 1 – 4 days after First Available Date.
Unlimited Auto Trans Is A Top Rated Illinois Car Shipping Company
At Unlimited Auto Trans, we seek and guarantee fully insured, trustworthy and reliable auto shippers who will handle your vehicle transportation with care and professionalism. 
Our trucking partners come from top-rated companies, ensuring the safe and timely car transport you deserve. Though a carrier's estimate can extremely vary from the final price you pay, our no-obligation quotes are guaranteed, so there won't be any unwanted surprises.
 Looking for more info regarding Illinois auto transport services?
Here's an inside of the auto transportation market in the state of  Illinois.
Illinois auto transport. What you need to know?
          If you have a passenger vehicle, SUV,  luxury sedan or classic car worth thousands of dollars, we guarantee your car will be our top priority from the time it leaves Illinois until you take possession of it at your desired destination. Shipping a car from / to Illinois takes a lot of work, despite the fact that "The Land of Lincoln" is a popular transportation hub. 
          First, you need to decide if you would like to have you vehicle transported with Open Trailer or Enclosed Trailer.  You can refer to the chart below and find out how popular Illinois is for the auto transportation industry, and average pickup time for each service. Keep in mind that Door To Door car shipping is included when working with us. 
   Once you have your order set up in our system we will assign a shipping expert to ensure a smooth pickup and delivery process. Moreover, you will be provided with the truck driver's phone number, who is transporting you vehicle. 
    According to a survey, good communication between customer, broker and driver is the most important element of the car shipping process.  Our 11+ years of experience in the auto transportation industry helped us develop professional relationships with some of the most reliable carrier companies in Illinois by treating them with respect.
     Another important element is the price of shipping a car from Illinois.  The cost of shipping your car or truck  is determined by a wide variety of factors such as: the type and size of the vehicle you want to transport, the pickup and delivery locations, and the overall distance covered by the shipment. Often these will fluctuate with the markets impacting nationwide auto transport.  Weather conditions are another important factor affecting transit times and car shipping costs in Illinois. 
Nationwide Car Transportation Services for
Individuals
Corporate
The most popular auto transport services
97% of all US vehicles are shipped with Open trailers. This is the most common, convenient, and affordable method of shipping a car in the United States.
These trailers provide additional security for the cars during transportation. It is recommended for luxury, exotic, sport, and classic vehicles.
A professional driver will pick up and deliver your vehicle as close to your front door as safely and legally possible.
Reliable and professional auto transport services that fits your need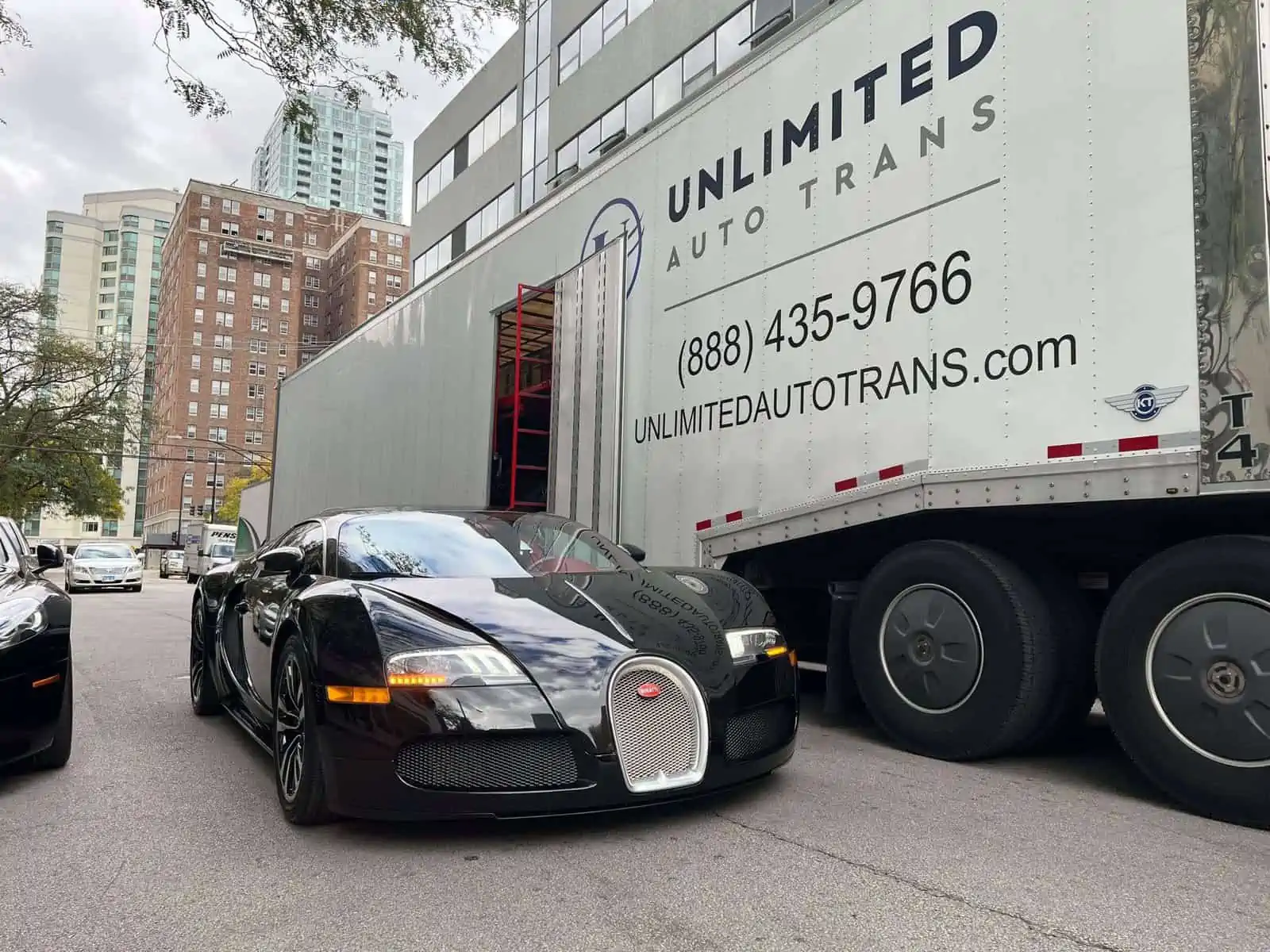 Luxury Vehicle Transportation Professional, Reliable And Secure Luxury Car Transportation 100% Insured, Licensed & Bonded …
Affordable Illinois Auto Transportation Options
   When you see our track record for success and customer satisfaction, you know that you are getting the best value for your money when you choose our Illinois car shipping service. Our pricing is competitive and affordable even if we don't push ourselves to meet the rock-bottom range.
    You know that there is a wide range of quality in automotive transport. Vehicles can vibrate during shipping, fall off the transporter, get scratched or dented, or disappear altogether. When you book your service with our company, you can bank on punctual delivery times and flawless transport of your vehicle.
  Our Illinois car shipping services use vetted local carriers who have experience with Gotham City and all the quirks that come with driving here. People who don't understand how the roads are laid out here and the simplicity of navigating them will find themselves lost without a paddle in no time.
   Unlimited Auto Transport is an Illinois auto transport company that has a feel for the road, know where traffic gets congested. Our knowledge is what ensures good service and an exceptional customer satisfaction ratio.
To Ship Your Car
From / To Illinois
Auto Transport Safety Measures in Illinois
   When looking for Illinois auto transport services, choosing the top dogs guarantees a safe and happy delivery. Don't stress out worrying about the quality of the drivers handling your vehicle.    
   We know you have a lot of Illinois car shipping companies to choose from, but we also see how few of our competitors can keep their promises consistently. It can feel scary to trust us with your vehicle for the first time, but we do everything in our power to put your mind at ease.
   Unlimited Auto Transport only works the best, and we don't even consider working with the rest. In addition, we hold ourselves to the same high standards as all of our partners. We are fully licensed by the United States Department of Transportation, and we are also 100% bonded and insured. As a client of ours, your vehicle is completely covered for its entire trip.
   We prioritize the safety of your car and, in doing so, make sure that periodic inspection with our carriers is mandatory. Each transport must be ready for quality deliveries, keeping the vehicle in place and providing ample protection from outside factors.
    Many carriers are considered open carriers and rely on beams to protect vehicles from objects in the air. You can upgrade your service to an enclosed carrier for maximum protection, which keeps your car completely protected from outside elements. 
    As a bonded, licensed, and insured brokerage with the U.S. Department of Transportation, damages to your car are covered, and you are entitled to compensation from the company.  In the event something damages your car, you are entitled to compensation from the company. 
   Once the vehicle is dropped off, make sure to check it before signing papers to ensure your automobile is in proper condition. Remember that our customer service and quality deliveries are our highest priority, and your vehicle is covered.
   After this is confirmed, you can pay your bill's remaining balance to the driver. If you're ready to move from Illinois, don't wait any longer to arrange your car's transport. 
   To do so, visit Request a Car Shipping Quote or call us at 888-278-9855 to get your price estimate today
Most Popular Auto Transportation Routes from Illinois
Integrity & Professionalism
Unlimited Auto Trans is committed to providing our customers with the highest caliber of customer service at the best possible price. We do not charge sky-high brokerage fees, and we work hard to match you with the ideal carrier for big savings we can pass on to our customers. Our experience as both a broker and a carrier means our customers benefit from a comprehensive view of every facet of the industry.
5 Star Vehicle Shipping Experience
Our brokerage makes safe and meticulous transport our highest priority. Unlimited Auto Trans is fully insured, licensed, and bonded with the U.S. Department of Transportation (USDOT) and the Federal Motor Carrier Safety Administration (FMCSA). You can rest easy that your vehicle will be treated with the greatest standard of care and respect.
To Get Started Shipping
If you would prefer to speak to one of our experienced Transport Specialists, feel free to give us a call at (888) 278-9855(Toll-Free)
Interesting information about Illinois
       Anchor of the American Heartland, nestled against the shores of Lake Michigan and the contours of three mighty rivers, sits Illinois. Often characterized as a microcosm of the U.S., this Midwestern state offers something for everybody. From woodland forests to bustling cities to low-lying prairies and suburbs, Illinois will welcome you, whether you're coming from California, the Jersey Shore, or anywhere above, below, or between. And Unlimited Auto Trans will handle your auto transport to and from the "Land of Lincoln."
      Springfield, the state's gleaming capital, used to house the 16th President. Visit the Lincoln Presidential Library or take a tour of Lincoln's house. Catch a flick at the Route 66 Twin Drive-in movie theater and grab yourself a horseshoe sandwich or corndog to snack on—both invented in Illinois.
       To the north, Chicago, bisected by a river sharing the city's name, offers some of the Midwest's greatest architecture and public art. Take an elevator ride to the top of Willis Tower, visit Millennium Park and take a picture with "the Bean", or catch a ball game at Wrigley Field, home of the Chicago Cubs. Grab a slice of the city's famous deep dish pizza, or a Chicago dog (replete with bright-green relish), and catch an improv show at The Second City for the full Chi-town experience. 
       Looking for a breath of fresh air? Hike along a section of the Lewis and Clark National Historic Trail or explore the vast wilderness of the Shawnee National Forest and take in all the natural beauty Illinois has to offer.
Ship Your Vehicle with Unlimited Auto Trans
Quick Guide to shipping a car from Illinois
At Unlimited Auto Trans, we provide safe and on time car transport at competitive prices. Ship your car stress free knowing we're licensed, bonded, and insured.
From passenger cars, SUVs, motorcycles, and even luxury cars, we can ship nationwide.
Use our calculator for a free instant quote today.
Book online or call us toll-free at
(888) 278-9855.